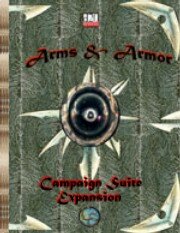 Product #: TNR10009
Release Date: November 7, 2002

Now available as a FREE data expansion!

From our friends at Bastion Press comes one if not the most versatile data expansions, Arms & Armor. An absolute must for any d20 campaign.

Weapons and armor are the lifeblood of adventuring companies, tools of the trade that stand as symbols of power and success over one's career. This expansion gives more armor, shields, and weapons useable by heroes of every trade and specialization. Pick and choose what to include in your campaigns or alter to suit your needs.

This expansion includes more than 140 new weapon and armor qualities (70+ of each), more than 100 new weapons, class-oriented weapons and armor, damage reduction rules that breathe new life into armor-wearing characters, racial masks, amulet servitors (golems that you wear, protecting you when needed), and more! And ALL of it is included in the expansion...every last crunchy bit!

This data expansion is designed for Campaign Suite, and requires full registration, version 02.11.07 or higher. Additonally, it is highly recommended that you have in your posession Arms & Armor, a D20 Sourcebook published by Bastion Press.

Download Arms & Armor data expansion FREE!